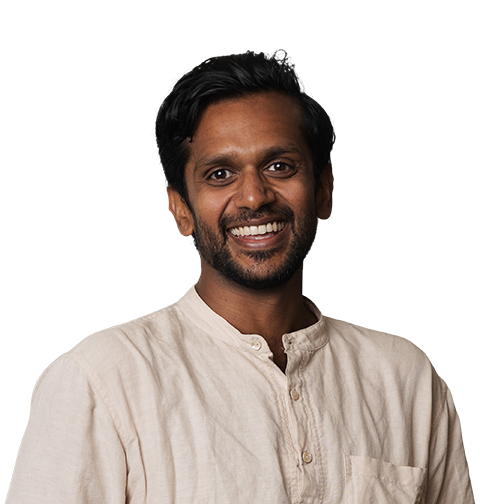 Tarun Suresh
Business Designer
Australia
Tarun is a designer with rich experience in project support who brings a considered and analytical mind to any project. He is a highly empathetic designer who listens and questions constantly reflecting in work that is highly context driven. A mixed method approach lies at the heart of his practice and believes that both data and ethnographic research are crucial in understanding systemic issues in institutions and individuals.
At ThinkPlace, he has assisted in qualitative and quantitative analysis and reporting on a number of projects. For the Department of Climate Change, Energy, the Environment and Water he aided in survey/data analysis, report building and interviewing on consumer sentiment of energy price changes in Australia. His support on the Department of Employment and Workplace Relations report on the departments vision and culture program saw him assessing common themes between interviews and survey data.
Outside of ThinkPlace Tarun has extensive experience in the South Asian Fast Moving Consumer Goods Industry (FMCG), particularly in product innovation, marketing/branding and sales. At the production level he has contributed towards sourcing low cost and sustainable packaging and raw material alternatives by forging connections at the international level. In marketing, he has experience in sales and production data analysis. Analyzing trends in sales and production data across multiple states in South India.
With a post graduate degree in political economics, specializing in social research, Tarun possesses deep academic experience in the socio-economic landscape. Here he focused on institutional economics which stemmed from his interest in understanding the motives of actors within organizations and institutions.  Tarun also relies on his background in fine arts and film where his work both professionally and artistically focused on the socio-cultural drivers that motivate individuals and groups. His time here served as the foundation for his systems thinking approach to his design practice.